Second instalment of conversations with Hepatitis SA CNP peer educators—Bernadette and Justin talk about what motivated them to become educators to their peers. Read Part 1 here.
Background: Among its other services, Hepatitis SA runs four Clean Needle Program (CNP) sites in Adelaide, at Hackney, Noarlunga, Port Adelaide, and Elizabeth. Our CNP peer educators also attend rostered sessions at other sites at various times during the week. In late 2019, we celebrated this program's fifth successful year, which would have been impossible without the hard work and dedication of our peer educators, who have personal experience and knowledge of injecting drug use and also have up-to-date knowledge on hepatitis B, hepatitis C and other blood-borne viruses.
Despite the COVID-19 outbreak and mass closure of services, Hepatitis SA's peers continue to offer CNP services, with extra physical distancing arrangements in place for the safety of both clients and workers.
We asked some of Hepatitis SA's peer educators to reflect on how they came to the job, and what rewards they find in it.
What first made you want to be a peer worker at Hepatitis SA?
BERNADETTE: I worked as a peer educator when the AIDS Council was funding the SAVIVE and SIN programs. I jumped at the opportunity to work for Hepatitis SA when it was provided with funding to continue to run the peer program—it's very rewarding work and I knew how important the program was. I applied to do casual/relief work when Hepatitis SA advertised.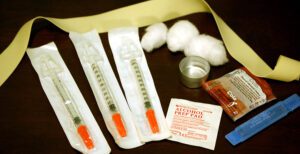 I enjoyed my role at SIN doing street outreach, providing condoms and needles to street-based sex workers and educating them on keeping safe while working, providing education to prevent them from contracting BBVs, and educating them about ways in which they could minimise harm to themselves and make educated choices—again, to prevent the spread of BBVs. I also provided education on how to care for their veins by using sterile water, filters, swabs, and a new fit every hit, in order to prevent vein damage or a dirty hit.
We also provide information about hepatitis and how hardy the virus is, education on not sharing tourniquets, spoons or mixing up in the same bag, and not sharing vein care cream or toiletries such as shavers, toothbrushes, or nail clippers.
JUSTIN: Working with my community is such a rewarding experience. Given my own early interactions with CNPs, being able to step into that role and provide information and education to people that they simply can't access anywhere else was so important.
Without harm reduction education it can be very difficult to appreciate what can be important practice and what are myths. Given the taboo nature of injecting drug use, so many of the harms arise from stigma, and from the prohibition of substances as opposed to the substances themselves. Helping people understand this not only gives them the tools to not cause detrimental harms, but also to be proud of who they are.
We help show people they have options, and that they can live happy and healthy lives whether they continue to need our service or not.
What have you found most rewarding about the role?
BERNADETTE: I find the feedback that we receive from clients to be a reward in itself. For example, to hear how comfortable they felt using our services and how they could openly talk about any issues they were having. Clients often relay how they like using our services because we are peers and have lived experience. They like that we not only can talk the talk, we walk the walk.
The most positive feedback is clients saying how they know we are not judging them. They compare our program and services with other programs and say how they can see that even though often they are receiving their equipment needs, that they don't feel like they can openly ask for advice, as the staff don't have the experience to answer their questions, or they feel rushed or judged.
Some of our long-term clients actually call in when they don't need equipment just to say hello, or will make a point of having a chat about what's happening in their life in general. Clients will often share with us how helpful another peer was or how we really helped them or changed the way they were feeling that day, just by being friendly and approachable, or because we took the time to listen, or we could see they seemed stressed, so we asked them if they were OK. A smile costs nothing but gives so much.
What other job is there where we are recognised for and able to share our own lived experiences with our peers and not only are we encouraged to share this, we are recognized as "experts" and given the title of Peer Educator?