In this series on low salt eating for people with liver disease we will be looking at how to modify your diet to stay within the recommended daily sodium intake  *. This daily limit is for those people who need to control fluid retention and is significantly higher than that recommended for people who need to control high blood pressure. Be sure to check with your doctor which limit is right for you.
Part One will cover the No Added Salt diet recommended by GESA  and many other medical associations around the world.
Part Two will discuss tracking your daily sodium intake so that you can see whether this is a realistic option for you.
Part Three is for people who don't cook and rely heavily on takeaway or supermarket meals. We will look which of these foods you are able to continue eating and what types of changes you might need to stay within the recommended daily sodium intake.
Each part will consider the costs and benefits of each style of eating and have links to recipes or further resources.
The No Added Salt Diet
GESA recommends that people with liver disease limit their daily sodium intake by following a No Added Salt diet. We recommend that you read through the GESA pamphlet in full if you plan to follow this diet (the word diet is used to mean "way of eating" and not "weight loss plan").
Some of the benefits and costs of following this style of eating are listed in the table below:
Benefits
Costs
No need to track or count, just stick to "allowed" foods.
Lack of flexibility. Can only eat "allowed" foods.
A highly nutritious diet that has many health benefits.
Few pre-prepared foods meet the "no added salt" requirement.
Can be a lot of work to prepare all of your own food.
Options for takeaways or eating out are very limited.
Loss of favourite foods and flavours.
Loss of the social and cultural aspects of eating certain foods, especially for special occasions or with other people.
It is important to note that the GESA recommended diet includes bread and bread products. Although this may seem contradictory as bread is generally highly salted, bread makes up an important part of a Western diet and if the rest of your diet is low in salt you should be able to eat moderate amounts and still remain within the daily limit without any need for tracking.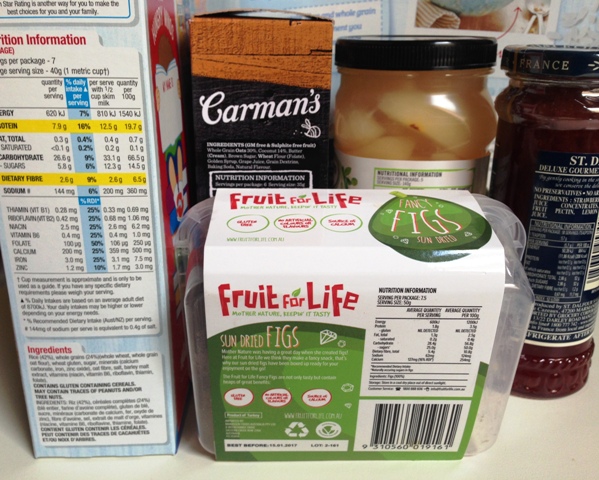 No Added Salt Weekly Meal Plan Example
An example of a one week meal plan is included below. A variety of meals from a number of sources has been included to show that it is possible to source some flavoursome, low sodium recipes. Examples of suitable snacks and desserts are also included.
Monday
Breakfast – Quinoa Porridge
Lunch – Hummus, veggies & pitta
Snack – Piece of fresh fruit
Dinner – Pasta Primavera
Tuesday
Breakfast – Low sodium cereal with milk and sliced banana (check brands and aim for below 120mg of sodium per 100gm serve)
Lunch – Grilled veggies & mozzarella wrap
Snack – Handful of unsalted nuts
Dinner – Salmon with warm tomato and herb dressing
Wednesday
Breakfast – 2 slices of toast with no added salt peanut or nut butter OR sliced tomato and avocado
Lunch – Low sodium egg salad
Snack – Fruit yoghurt
Dinner – Balsamic Chicken
Dessert –  Baked Banana with Honey
Thursday
Breakfast – Apple Bircher Muesli
Lunch – Grilled chicken and avocado sandwich on wholemeal bread such as Burgen or other low salt brand
Snack – Sweet biscuit (check brands and aim for below 120mg of sodium per 100gm serve)
Dinner – Herbed lamb salad (use oats if unable to find low-sodium bread crumbs)
Friday
Breakfast – Porridge, lots of ways
Lunch – Pasta salad
Snack – English or fruit muffin with unsalted butter & jam
Dinner – Roasted red peppers with tuna & herbs
Saturday
Breakfast –  Poached eggs (do not use the added salt in the recipe) on toast with reduced salt baked beans
Lunch –  Tuna Bean Patties
Snack –  Apple and oat muffins
Dinner –  Portuguese Style Chicken
Dessert –  Strawberry Yoghurt Crunch
Sunday
Breakfast –  Buckwheat pancakes with berries
Lunch –  Butternut squash soup, stock recipe here
Snack – Unsalted popcorn
Dinner –  Spicy beef rendang
Dessert –  Ricotta & Almond Stuffed Apples
Recipes and other resources
All of the recipes included in the meal plan above are low sodium, however not all of the recipes at the sites below are so you will need to check the ingredients list for added salt or salty ingredients.
For an introduction to reducing sodium in your diet go to our earlier post 'Low Salt? But what will I eat?'. It includes information on converting grams of salt into milligrams of sodium, how to read nutrition labels and links to supermarket shopping guides.

In our next post we'll look at ways to track your daily sodium intake to allow for a wider range of foods.
*In September 2017, the National Health Medical and Research Council (NHMRC) revised the  Suggested Daily Target (SDT) for sodium to 2000mg/day. The Upper Limit (UL) – previously 2300mg/day – was revised to "not determined" to reflect the inability to determine a point below which higher sodium intake was not related to higher blood pressure. For more information visit the Nutrient Reference Values sodium page.